Key results
Pier reopens to much acclaim
£2m donation from the govenment
The Crisis
Eastbourne is renowned not just for sun and sea, but also for its immaculately preserved seafront, with the Victorian pier as the jewel in the crown.  The pier is regularly voted among the finest examples of Victorian architecture and with its restaurants, shops and entertainment arcades, is a top attraction for the thousands of visitors who flock to Eastbourne every summer.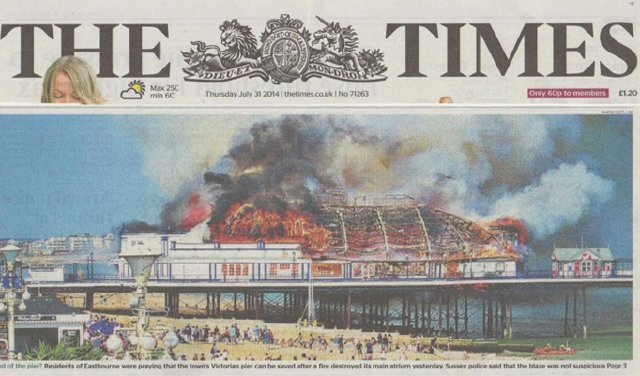 Imagine then the deep shock and disbelief when one sunny afternoon, just before the summer holidays, fire ripped through Eastbourne's iconic landmark.   People on the beach stared in disbelief, and businesses watched in despair as their incomes went up in smoke.
The potential economic fall-out for the town was huge. The summer holidays are when many of Eastbourne's businesses make the majority of their money.  If the fortunes of the town's businesses were to be saved, then rapid action was needed to save Eastbourne's reputation as a tourist destination.
Our Solution
Given the nature of the incident, swift action was needed.  Planning had to be done on the hoof.  Our immediate concern was to manage the high volume of media interest and ensure that correct information was delivered in a timely way.
Our tactics included:
Ensuring that the media were provided with correct and up to date information. It was vital to avoid a communication vacuum and the need to work closely with the local, national and international media
Identifying and engaging with key stakeholders to ensure their support in the wake of the fire and the tragic accident
Demonstrating the efforts to help out-of-pocket businesses – including a benevolent fund – for those who had lost their premises in the fire
Harnessing social media channels to promote key messages, including that the pier was not destroyed and would be repaired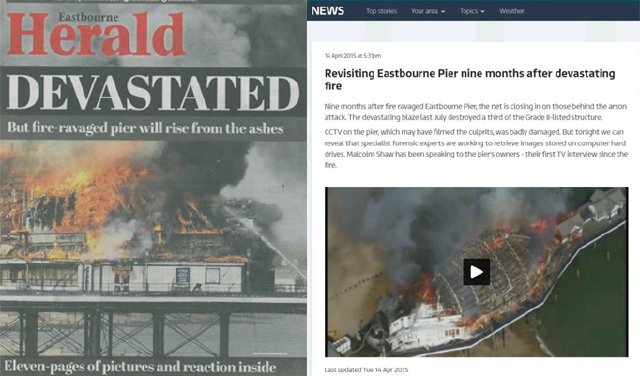 The Outcome
Since working with Eastbourne Borough Council we have:
Uplift in tourism
One of the major early fears for the town was the negative impact the pier fire would have on tourism. However, the reverse happened and hotels, guest houses and B+Bs reported a surge in bookings. There can be no doubt that the extensive positive media coverage has put Eastbourne on the map.
Pier reopens to much acclaim
Some 10,000 people came to the re-opening of the pier on September 29 to witness first-hand the devastation of the fire and the re-building work. The local and national media turned out in force. Sky News covered the opening throughout the day, and there were stories in all the regional and many national outlets.
£2m donation from the government
Eastbourne's plight attracted the attention of David Cameron and George Osborne who paid a visit on August 4.  While here they pledged £2 million to promote the town and help those who'd suffered financial loss.