Key results
After just two months of the £1/hour parking, usage of the car parks saw a 12.5% increase!
Local businesses saw a 53% increase in customers and a 28% increase in spend per customer.
Worthing is now becoming an important retail and leisure destination like it was 30 years ago
The Challenge
The cost of parking in Worthing town centre had been a source of much anger for many years thanks to the rates charged in the NCP multi-storey car parks. The situation had got so bad that shoppers began choosing not to come to Worthing, which had a negative effect on local businesses as they were losing trade. As one of the councillors said:
"Thirty years ago, Worthing was one of the best shopping parades in West Sussex…"
Worthing Borough Council (WBC) made the decision to purchase three car parks off NCP and introduced a £1/hour parking scheme. However, with expensive parking in place for so many years, people had formed other shopping and parking habits and despite the reduction in fees, the car parks remained relatively empty. These empty spaces meant a loss of income to WBC so a hard-hitting awareness campaign that produced quick results was needed to stop the car parks haemorrhaging money.
Cobb PR was appointed to devise a campaign that would change behaviour and bring drivers back to Worthing and into the town centre's multi-storey carparks. There was a time limit of just three months to demonstrate a significant increase in car park usage.
Our Solution
The target audience were people who live and work in Worthing and the surrounding towns.
First, we carried out research to discover the issues shoppers had with parking. This included hitting the streets of nearby towns and local car parks and speaking with local business owners to discover their issues and gather suggestions on how they could be tackled.
Our research revealed that visitors had lost all faith in parking in Worthing town centre carparks so our strategy was to:
1) Communicate that parking was now affordable, through an eye-catching campaign.
2) Drive the message that if people didn't use the car parks, then the £1/hour would stop.
To address the first strategy we developed the "Parking is Fine" campaign and to address the second around the £1/hour parking, we introduced the #useitorloseit campaign. We ran these campaigns side by side for maximum impact and to ensure that as wide an audience as possible was targeted.
Our Tactics
1. Hit squad
To first get the message out that the scheme was in place, a team named the 'hit squad' took to the streets to distribute 1,000 leaflets to shoppers and passers-by.
2. "Parking is Fine" promotional day
The Mayor and Mayoress of Worthing showed their support for the campaign at a promotional day alongside three spoof traffic wardens who, rather than handing out parking fines, were giving out vouchers for 2 hours free parking. The event ended up being featured in The Worthing Herald Newspaper and as an online video format on its website.
3. Pavement graphics
These were installed in the highest footfall areas, raising awareness and pointing people to the £1/hour car parks.
4. Newspapers
The Worthing Herald (local paper) ran a number of positive stories throughout the campaign, however it was also important shoppers from other towns (like Littlehampton, Chichester and Horsham) were attracted to Worthing, so we ran a series of reader offers with vouchers for free parking.
5. Social media
Social media played a big role in this campaign, with dedicated Facebook, Twitter, Instagram and Pinterest sites, with specific online-only content, plus all offline materials uploaded. To help promote Worthing, a competition was launched using these sites, giving prizes to people who posted the best Worthing photographs and for saying what they loved about the town.
There were regular posts and updates to encourage sharing and 'likes', such as 'spot our ad van' and video interviews with key people like councillors were uploaded.
6. Stakeholder engagement
Extensive stakeholder engagement was carried out prior to and during the campaign with:
Town centre visitors: market research.
Worthing theatres: to run the competition.
Local businesses: updated throughout the campaign, with the help of the Town Centre Initiative (TCI) – a body representing town centre businesses. Its contacts' database ensured as many businesses as possible could be reached.
Chamber of Commerce and the TCI: conducted interviews which were published online.
Mayor and Mayoress of Worthing: resulted in them supporting and promoting the campaign.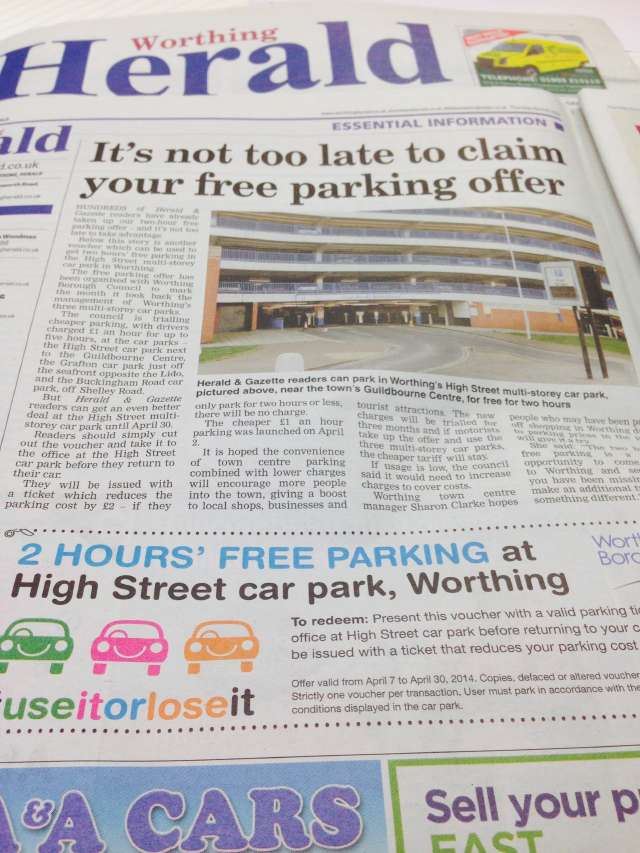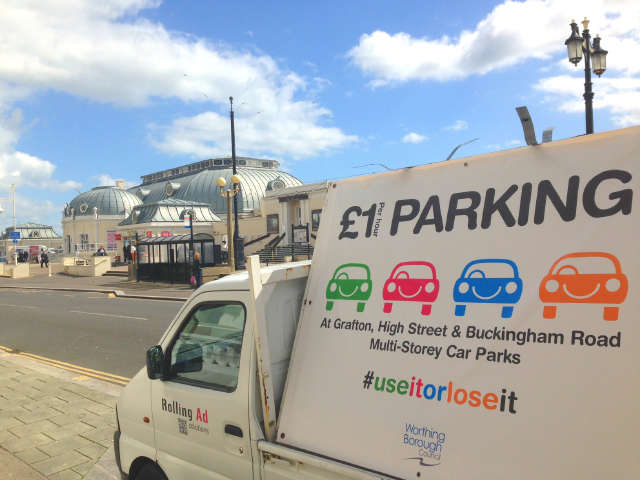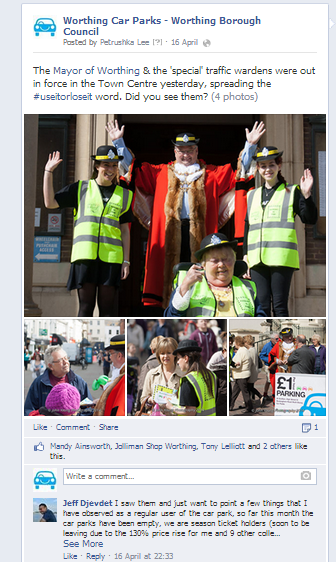 The Outcome
Since working with Worthing Borough Council we have:
Increase in visitors
After just two months of the £1/hour parking the usage of the three car parks was 53,976, almost 6,000 more than May 2013, representing a 12.5% increase!
Impact on businesses
The increase in visitors had a very positive impact on businesses. There are more people visiting Worthing, staying longer and spending more in the town centre.
Businesses reported a number of benefits including an increase of:
53% in customers.
28% in spend per customer.
47% in sales (a local toy shop has seen a 93% increase in trade).
Thanks to the £1/hour parking Worthing is now becoming an important retail and leisure destination like it was 30 years ago, and not just for local residents, but for miles around.
Worthing Borough Council leader Paul Yallop said: "It was a clever, well-planned campaign that promoted a cheaper car parking tariff to the people of Worthing and beyond. I am delighted that the work of the council and Cobb has been recognised by being short-listed for a national award."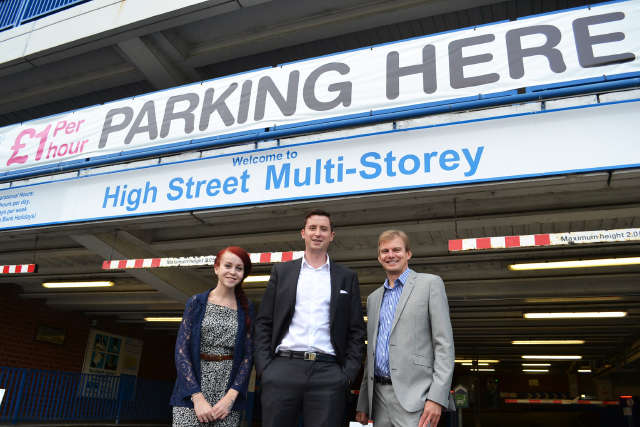 "We've noted a marked increase in footfall over the last few weeks, which when you consider that almost every other town is seeing a decline, is incredibly good news for Worthing."
– Sharon Clarke, manager of the Worthing TCI