It's the start of February, which means it's time to look back over January at some of my favourite PR campaigns.
From Valentine's Day in Greggs to free gin when your train's delayed, here's my favourite five:
Valentine's Dinner at Greggs
February 14th is a big day for PR campaigns with brands of all shapes and sizes looking to find love from consumers and the media. It can be hard to stand out against the crowd, but Greggs did just that by teaming up with OpenTable to offer couples a unique experience.
Only available in five branches, couples will receive roses, four-course dining and table service. As for media coverage, regional titles lapped up the news with national highlights including the Independent, ITV.com and The Sun.
Clever and fun, we love the simple and effective campaign that's stolen the heart of many sausage roll lovers.
@Greggsofficial
Hire your sunbeds with Thomas Cook
Think back to your last summer holiday, racing down to the pool, only to find all sunbeds have been 'reserved' with towels, rather than people. However, thanks to Thomas Cook, this inconvenience will be no more, as the team announced the opportunity to 'Choose Your Favourite Sunbed' and reserve it ahead of time.
Widespread media outlets covered the humorous news, which is available in selected hotels for summer 2018 holidays. With a dedicated video and landing page, Thomas Cook has done a great job at capturing new website traffic while continuing to share their message of 'personalising your package holiday'.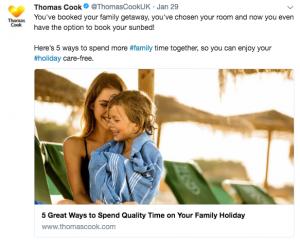 @ThomasCookUK
#YayDelay – Free gin when your train's delayed
Nobody enjoys train delays, especially when you're racing to the weekend on a Friday night. Thanks to the team at Gordon's and a very clever algorithm, passengers that experience delays can claim a free G&T.
The website states that 'the algorithm combines cumulative minutes of delay with levels of twitter buzz to pinpoint the moments when a free G&T will be most welcome' and the offer works between 5-6pm on Friday nights.
More than 50 pieces of coverage, social buzz, a dedicated hashtag and a landing page accompanied by a paid budget sent this campaign soaring.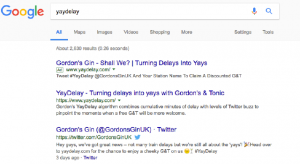 #YayDelay
Colin and Connie tie the knot
In 2016, M&S shared that Colin the Caterpillar (the UK's favourite birthday cake) had found love. Now, in 2017, he's getting married to Connie and you can having matching wedding cakes to commemorate their special day and yours!
In a statement, M&S said: Colin and Connie are the perfect match and their big day is set to be the wedding of the year. For Colin it was love at first sight and he couldn't wait to 'put a ring on it'!"
Not only did the story gather some widespread press, it was a hit with wedding trade titles promoted as a cost-efficient option for a fun wedding cake.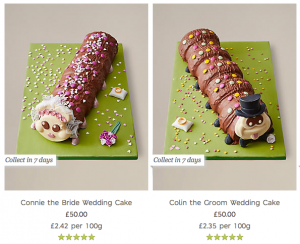 @MarksandSpencer
The Body Shop and Cruelty Free International
Whilst not a UK campaign, we loved the dog protest in front of the U.N. in New York last month. Put together by The Body Shop and Cruelty Free International, the dog protest highlighted the 'Forever Against Animal Testing' campaign which challenges the U.N. to end the practice of animal testing in the cosmetics industry.
The protest included eights dogs of different breeds and sizes wearing protest signs, bandanas and miniature banners. The team were joined by influential pet photographer, @TheDogist and influential Instagram pet influencer, @louboutinanyc.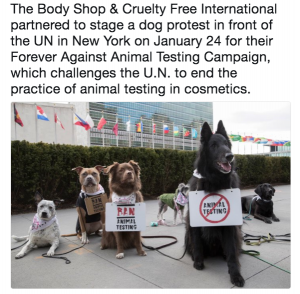 @TheBody Shop
We love nothing more than creating outstanding campaigns to make your brand sing. Get in touch with us today to find out how we can help you in 2018.