We love an April Fool at Cobb PR not least because they can be a great way of generating some positive exposure for your business while getting over some key messages. Susannah Finch, our intern, outlines a selection of our favourite pranks from 2019.
The Google Tulip – Google Nederland, 2019
Holland's Google team has got a reputation for its unfailingly sophisticated April Fools, such as the self-driving bike from 2016. This year they have released an ad for the new Google Tulip on its Google Nederland Youtube channel, poking fun not only at the tulip-loving Dutch, but also society's fascination with AI.
Height Verification – Tinder, 2019
Tinder's April 1st announcement must have worried daters when it posted on Twitter that it would be introducing a new 'height verification' addition to the app. Despite backfiring slightly when people started demanding a weight verification option, it gave Tinder a light-hearted platform to talk about being honest when dating.
Sniffer Bunny – Cambridgeshire Police, 2019
Need we say more?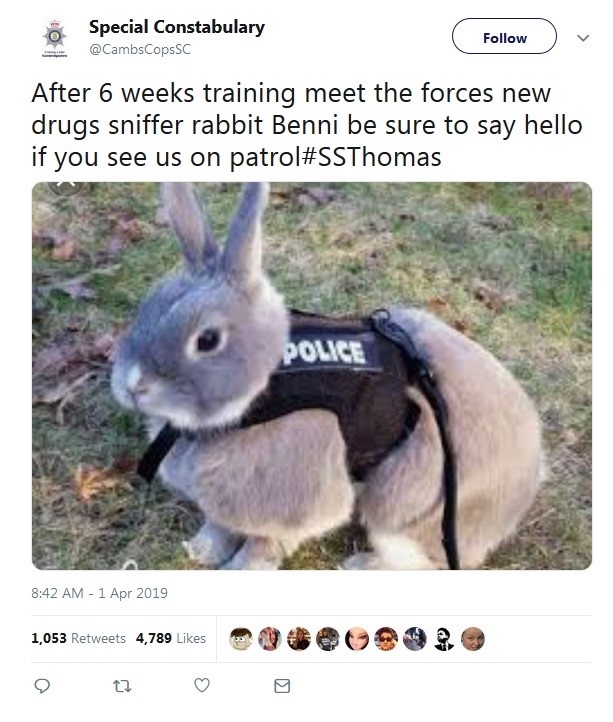 Skip the Sex – BBC iPlayer 2019
We've all been there! Why do sex scenes have to sneak up at the most inconvenient and awkward moments? BBC iPlayer jokingly announced that they would be introducing a "Skip the Sex" button, so you can steer clear of the sexy bits of your favourite shows when you need to most. This one you sort of wish wasn't just an April Fool!
Brexit Over and Out, Lewes Castle – 2019
With Lewes Castle being so local to us, we couldn't miss this story out. When a photo of the spotless castle defaced with "Brexit Over and Out" started doing the rounds, residents must have been horrified. Luckily, it was only a neat Photoshop trick.
Free beer – NHS, 2019
"Prescriptions for pints of stout will be issued to patients who can convince their local GP they are suffering from anaemia, insomnia, or tiredness." stated the Daily Star, as the NHS supposedly announced free beer as a newly-introduced treatment. We're sure many people were disappointed to hear this was a hoax!
Smelly Food Ban – British Transport Police, 2019
Another one which seems too good to be true! British Transport Police announces a £2000 fine those eating offending foods on public transport.
Milkshake and Chips – McDonalds, 2019
McDonalds gave us all a fright when it announced its "new milkshake sauce pots for people who love to dip their fries in their milkshake". Interestingly enough, in Australia, the global giant took to its social media accounts to jokingly unveil its new "McPickle Burger". This was met with a fiery backlash as many clients complained they were looking forward to trying it!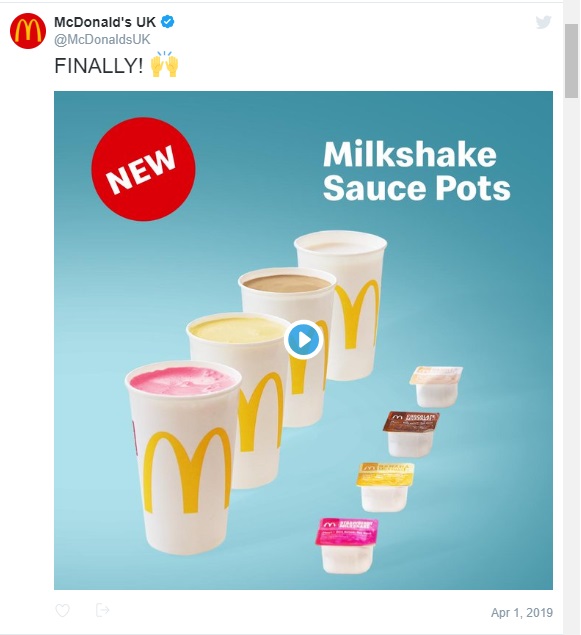 Give the Dog a Drone – The Times, 2019
The Times decided to fool us with a drone dog walker this year, which "can even pick up mess". Give it a few years and this story might be for real!
Jokes are banned – The Telegraph, 2019
The Telegraph reported that the Parliament had "banned jokes amid warnings the public can no longer tell the difference between reality and farce." This is a topical reference to Oliver Cromwell's era, even referring to his 1653 statute.
If you fancy putting on your own April Fool next year check out our blog post How to stage the perfect April Fool