With summer coming to an end, it's time to reflect on our favourite PR campaigns of August. From cupcakes being sent with make-up home deliveries, to an instant purchase vending machine for cars, we have narrowed down our top five campaigns.
Here are our top five:
Don't buy Coca Cola if you don't recycle
 At Cobb HQ we like to do as much as we can to help the environment, especially when it comes to recycling. Coca Cola's new campaign "Don't buy Coca-Cola if you don't recycle" got an applaud from us in the office.
The new billboard campaign from the brand first launched in Belgium and fits in with the company's environmental targets set back in 2017, to make all its packaging recyclable and have its bottles made of at least 50% recycled plastic.
Coca-Cola's new slogan wants to focus consumers' attentions to its targets and wants them to think about helping the company reach its goals. Also, unconsciously making consumers buy into its products to support the environment.
A clever and memorable campaign. Well done Coca-Cola.
Vegemite vs Marmite
This month's battle commenced with England vs Australia, not just limited to the cricket, but with toast-toppers Marmite and Vegemite, going head to head with ad campaigns corresponding to the 2019 Ashes.
Upon hearing that Marmite was giving away free jars of spread during the Ashes, Vegemite took out a full-page ad in the Daily Mirror, reading:
We wish @Marmite all the best but don't expect Aussies to be bowled over by their antics at the cricket. So, we took action by running a full page ad in the @DailyMirror … Catch ya at Lord's! #TastesLikeAustralia #Vegemite #Ashes pic.twitter.com/jMRJkEi63b

— Vegemite (@Vegemite) August 8, 2019
In response to Vegemite's spontaneous dig, Marmite also took out a full-page ad in the Daily Mirror to deliver a simpler, well-crafted response on behalf of the 'Marmy Army':
This is England. This is cricket and we are the #MarmyArmy
You're toast @Vegemite ???????? pic.twitter.com/acUFjfY0cK

— Marmite (@marmite) August 10, 2019
For non-cricket fans, Marmite's response is a reference to Australia's 2018 ball tampering scandal that saw the Australian cricket team sandpapering a ball during a game, which effects how the ball travels.
As Brits, we're known for our sarcastic responses and this campaign, from both brands, was a great way for some good old-fashioned sledging, but also capitalised on current topical news with the cricket.
Benefit x Deliveroo
Benefit has partnered with Deliveroo to share the news of its new product by hand-delivering make-up artists and cupcakes to its consumers' front doors.
Global cosmetic brand, Benefit launched its new Boi-ing Cakeless Concealer which will be available to try from the comfort of its consumers' homes. Deliveroo drivers will be delivering Benefit make-up artists to help colour match the concealer and will be giving away the new product for free.
The East London bakery, Lily Vanilla, has created three bespoke cupcakes for Benefit's launch, offering vegan and gluten-free alternatives, allowing Benefit customers to have their cake and eat it.
The campaign launched on 22 August 2019 in partnership with Deliveroo, to raise brand awareness for both companies and use a unique way to kickstart a product launch.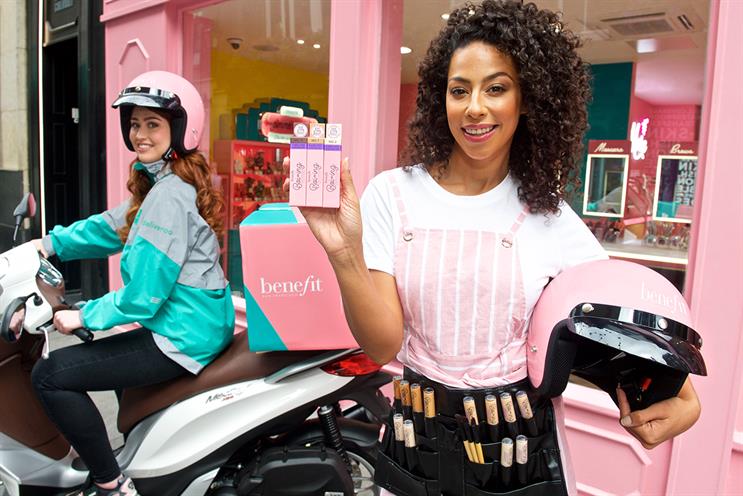 The world's first car vending machine
Auto Trader has launched the world's first contactless car vending machine, offering a haggle-free way to purchase a brand-new car.
The vending machine was installed at London's Spitalfields Market following a study by Auto Trader, finding that Brits think they are bad at haggling.
A team of six engineers spent three months designing and building the car dispenser that releases the car once payment has gone through. The machine allows purchases of up to £21,000 and you can "buy and go" with Auto Trader's pre-haggled price.
Auto Trader's goal was to reflect the discounts that can be found on its website and showcases the stress-free way of purchasing any vehicle. A unique campaign from the brand which creates brand awareness and offers to remove car-buying anxieties from its consumers.
Complaints Welcome
Channel 4's latest campaign Complaints Welcome, features TV's familiar faces bringing genuine complaints made about them to life in a TV advert.
The entertaining advert features many Channel 4 stars such as Prue Leith, Jimmy Carr and Mo Gilligan. Director of Programmes, Ian Katz said the ad "celebrates one of the things at the heart of Channel 4's identity: challenging the way our viewers think about the world."
Channel 4 has long positioned itself as a channel that embraces diversity, the film aims to highlight the fact that the broadcasters live to spark discussion. This campaign was a great initiative that delves into the catalogue of complaints but incites positive change. A great tactic to turn a negative into a positive through brand awareness.
If you haven't already seen the hilarious TV ad, watch it here:
At Cobb PR, we're great fans of impactful campaigns and are always on the lookout for businesses that want our help to execute something imaginative.
Need our help launching something? Pop in for a chat and brew, and we'll put our best thinking caps on.