I'm a bit of a Valentine's Day scrooge, however it does make for some great topics of conversation and, most importantly, some great PR campaigns. Marketers and PR professionals work hard year in and year out to create emotional connections with people on a day that is already incredibly emotionally charged. And it works.
With Valentine's Day spending expected to hit somewhere in the region of $26 billion in 2023, hundreds of brands are still taking advantage of the season of love. Valentine's Day has historically been a massive hook for brands to build huge PR campaigns around, so I decided to explore *what* made Valentine's Day so popular, and some of my favourite PR campaigns.
A brief history
Having attended a Catholic convent school myself, it would be rude for me to ignore the religious aspects behind Valentine's Day. What originally started out as a Christian feast, slowly turned into a small celebration thanks to Shakespeare, who romanticised the day in his work. Most notably, in A Midsummer Night's Dream and in Hamlet, Shakespeare claims that if two single people meet on the morning of Saint Valentine's Day, they will likely get married.
However, it wasn't until the early 20th century that Hallmark started to capitalise on Valentine's Day after the decline of their standard greeting cards. And then it took off.
Here are some of my favourite Valentine's Day campaigns:
WWF: Love it or Lose It
At Cobb HQ we are all incredibly environmentally conscious, and this campaign really hit home. WWF's 'Love It or Lose It' campaign was launched February 2022, highlighting the importance of loving the natural world or risk losing it. The campaign allowed consumers to reconsider any surface-level ideas of love, and find solace within nature.
This #ValentinesDay, choose nature!

Without our love, the natural world as we know it can–and will–disappear. It's our choice. Love it or lose it. Learn more: https://t.co/IljGCNHo1q pic.twitter.com/shRmlyctTz

— World Wildlife Fund (@World_Wildlife) February 14, 2021
Fair Trade: Share the Love
With cocoa being a huge part of gift-giving on Valentine's Day, this campaign encouraged individuals to consider the farmers behind the gifts. With a massive demand for both flowers and chocolates around any big holiday globally, this campaign highlighted the need to shop sustainably and share the love and appreciation for the farmers supplying us with our gifts.
View this post on Instagram
Pandora – Little Acts of Love
Pandora, in my eyes, is the GOAT (Greatest of all Time) of Valentine's campaigns, delivering unique, authentic campaigns year in and year out. Authentic PR campaigns are the ones that make the biggest impact, and Pandora hit the nail on the head with their 'Little Acts of Love' campaign. Pandora explored how consumers can find love in the simplest of gestures and interviewed real-life couples to not only talk about their love story but to understand what love meant to them. After all, love looks different from person to person, and Pandora explored this in the most sensitive and heart-warming of ways.
This #ValentinesDay, we're asking real life couples and friends to share the little acts of love that make their relationships special.

What are the little acts of love that mean the most to you? Share below with the hashtag #VoicesOfPandora. pic.twitter.com/Cc0qy9DIqe

— Pandora Jewelry (@PANDORA_NA) February 3, 2021
Innocent – Love Labels
I couldn't make a top campaigns list and not include Innocent. The Innocent marketing team is excellent and everything I aspire to be. This campaign was an alternative gifting idea, encouraging consumers to personalise a label on their favourite smoothie and gift it to a loved one. Innocent even created a new dedicated site to generate a love label and even changed their logo to make it more heart-shaped ahead of the big day.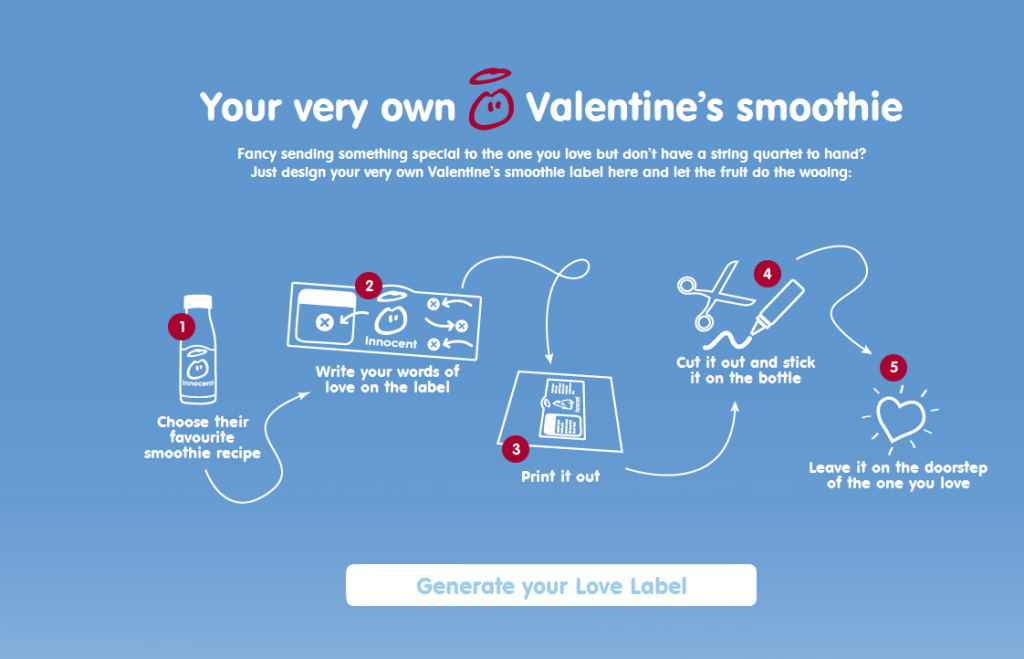 And a special shout out to 'Galentine's' Day.
What was initially a fictional day created by Leslie Knope of Parks and Recreation has now become an official day of celebration. Celebrated on 13th February, it is a day for 'ladies to support ladies' and celebrate the gift of friendship.
Over the years, big brands such as Penguin Random House, Ann Summers and Pandora have been jumping on the trend, making it the newest commercial opportunity for marketers.
One for you and one for your Galentine's ? Create your own bracelet for you and your bestie this Valentine's. Choose 1 bracelet + 1 link + 1 charm for £79.

Shop now: https://t.co/EZ8n9d1dqR pic.twitter.com/6MyaFB31Yn

— Pandora Jewellery UK (@Pandora_UK) February 2, 2023
At Cobb PR, we're great fans of impactful campaigns and are always on the lookout for businesses that want our help to execute something imaginative.
Need our help launching something or even just to brainstorm ideas? Get in touch today.