Journalists love to report on a good argument, whether that be planning disputes, overgrown gardens, noisy neighbours, or inheritance disputes between relatives.
Earlier this month, we were treated to two rival swan rescue groups "at war" over the rights to protect the animals at an ornamental lake in Cheltenham. The Times could not resist the headline: "Feathers fly in fight over swan lake."
Spats can also be engineered to gain great exposure for an event or product. But you have to ensure both sides come out as winners and that neither party is seen as the bad guy.
Some years ago, Cobb PR was asked to promote Eastbourne's first-ever Birdman competition. Our client wanted national exposure for an event that was, in all honesty, pretty hum-drum … people jumping off the pier to try to gain the maximum distance and a modest cash prize.
We spoke to the organisers of the long-established Bognor Birdman and came up with a cunning plan. Let's have both events on the same day to create a Battle of the Birdmen. Tourism chiefs at both resorts agreed to play along and engage in verbal jousting. Bognor claimed Eastbourne was trying to steal its thunder, while Eastbourne suggested Bognor's event was looking a little tired and needed some honest competition.
The result? ITN's News at 10 team came down to film both events and interview the tourism directors. We briefed both tourism chiefs about lines to take to ensure the "arguments" were lively but fair.
It worked perfectly. A very balanced news item that enhanced both events and ensured larger crowds at the following year's competitions.
So what other ways are there to jump on the bandwagon and get some great exposure? We looked at surveys in last month's blog. A survey can work really well so long as you tie up all the ends. It will give journalists a fun story and – most importantly – give you the publicity you are seeking.
So, how do you create the perfect story? A good example is creating a great April Fool prank. We touched on April Fool stories last month, but here's a bit more detail about the perfect April 1 story.
Golden rule #1: always involve the journalist and offer the idea as an exclusive story to them.
Golden rule #2: choose a media outlet that publishes/broadcasts on April 1
Step 1 – your story needs to be believable … just
Step 2 – make it a fun story … no losers or baddies
Step 3 – touch base with the journalist as you plan your story. Check they are buying into the idea
Step 4 – no loose ends, make sure all the questions in the readers mind are answered in your article
Step 5 –  consider giving a clue in your article that alludes to April 1. It can leave the reader/viewer thinking is it … isn't it … an April Fool story.
Example 1
Cobb PR was asked by the South Downs National Park to help encourage visitors to under-used downland venues and to promote the use of public transport for their journeys.
With April 1 looming, we approached a relevant local paper and discussed the idea of a Lollipop Lady stopping traffic on a busy road to allow sheep to cross from a field into the Seven Sisters Country Park at feeding time.
The story ticked all boxes, added good humour and provided a good photo opportunity. The article ran on April 1, allowing readers to wonder if this was a genuine story or not.
The icing on the cake was that several national newspapers ran articles the following day on good April Fool stories. This one featured prominently, thus helping to further promote the key messages of the campaign.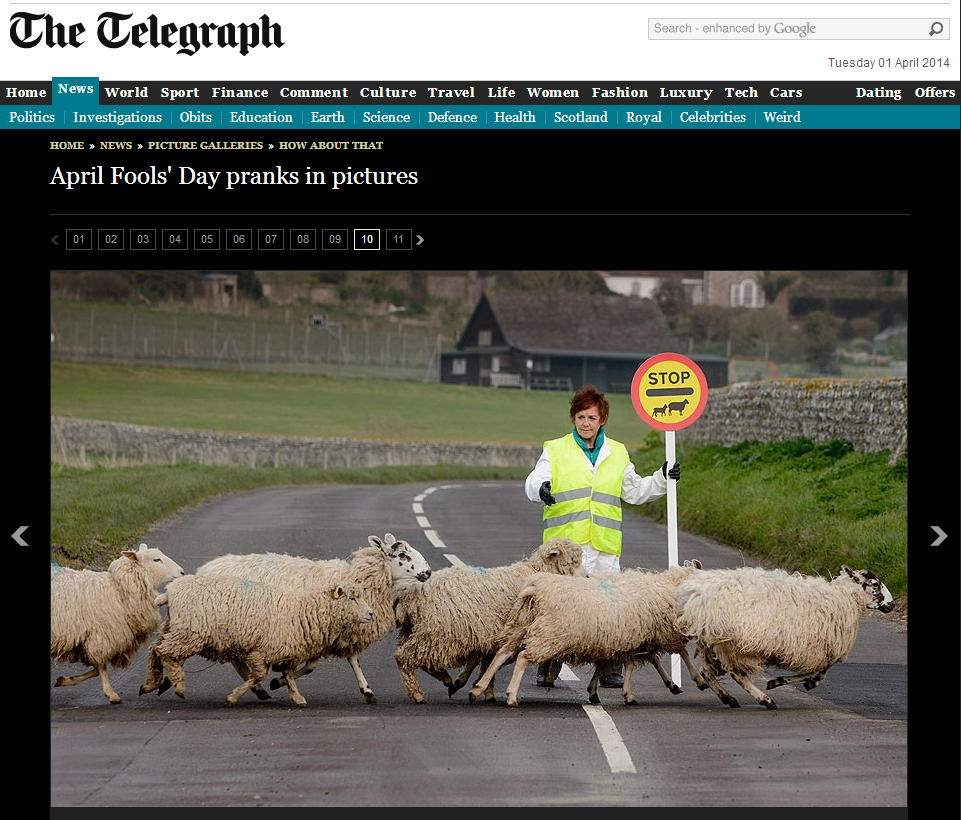 Example 2
Working with an interior design and paint supply company, Cobb PR was asked to promote the durability of its exterior wall paints in the toughest of conditions.
While travelling back from France on a ferry, I noticed that iron-ore had discoloured a section of sea-facing cliffs, changing sections of the white cliffs into a rust-coloured pallet. And I had an idea.
If I could get permission from the local authority, I could get a painter up on some scaffolding and could cover over the "rust" patches with brilliant white emulsion.  The council was unimpressed by the concept, so I implemented Plan B. My designer mocked-up a before and after shot of the cliffs, with our decorator standing on the beach below, looking up admiringly at his work.
We sold the idea to a local TV station and were honest about the way we had engineered the photo. We spoke to the council and made a donation to the Mayor's charity. Everybody was happy.
The TV item was great fun and at the end of the piece, the reporter explained that this was indeed an April Fool. Most importantly for my client, the story promoted the benefits of exterior paint in covering up marks and stains. A good result all around.
Want help creating the perfect story? Get in touch with our team today!